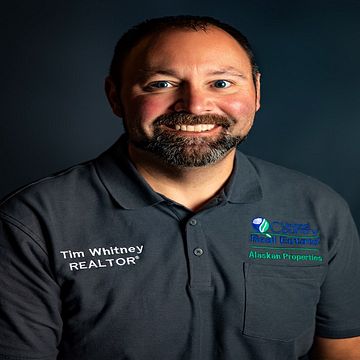 Tim Whitney
Co-Owner/Associate Broker
Having retired from the United States Air Force in 2016, and living in Alaska since 2011, Tim has the experience you are looking for when buying or selling Military investment properties, single family residences, multi-unit buildings, vacant land, and recreational properties all over the great state of Alaska. Having fell in love with Alaska and the amazing landscape, Tim became a permanent resident to the Eagle River & Chugiak communities and has grown to be very familiar with all of the areas surrounding his home area to include Palmer, Wasilla, Anchorage, Big Lake, Willow, Girdwood, Talkeetna and the Kenai Peninsula. Through his work in the Air Force, Tim developed great communication skills and learned how to get things accomplished. From listing to negotiations to closing - Tim has the skills and experience to provide you with a smooth and fun transaction.
Tim is active in the Chugiak & Eagle River communities. He is a member of the Chugiak - Eagle River Chamber of Commerce.
Send specific property inquiries from the listing detail page.