303 Acres of Improved Recreational Land for Sale in Lohn, Texas
The 303 acre Mccants Ranch is absolutely Texas thru and thru - Huge views. Huge wildlife. Huge investment opportunity. No expense was spared in transforming this mountainside property into the ultimate hunting destination and family gathering place. At less than 30 minutes to the Brady airport/shopping/dining, 2.5hrs. to Austin, 3hrs. to Fort Worth and Waco, and 1.45hrs. to Abilene it makes for the perfect retreat for those traveling from both near and far. In a region of the state with primarily flat to gently rolling landscape, the Mccants Ranch clearly stands above the rest.
When you enter through the landscaped front gate, you'll travel along a manicured road system past numerous food plots and begin working your way up the 260' elevation gain to the apex of the Brady Mountain Range. At 2030' above sea level, atop a scenic vista and tucked into a beautiful canopy of Oaks sits the main improvement area of the ranch.
Improvements:
The 2600 sqft 4 bed, 3 bath lodge contains a large gourmet kitchen with the latest stainless appliances and a comfortable dining area. The living area, master bed/bath and 3 other large bedrooms come fully furnished where all you'll need is your toothbrush. Then there's the breathtaking front deck where you are sure to spend countless evenings watching the sun set over the mountain range, grilling by the fire place, enjoying the stars with zero light pollution and telling tales of the bucks you saw that day. Except this time the tales will be true.
Beside the lodge is the 600 sqft guest house with an additional 2 bed, 1 bath and a full kitchen. Comfortably removed from the living quarters is the recently constructed 2000 sqft recreational barn which is equipped with a pool table, full kitchen, fireplace, lounge chairs, TV, wet bar, work bench, commercial walk in cooler, cleaning stations, two drive in bays and three 18' automated roll-up doors.
Wildlife:
Precise care has been given to wildlife management as evidenced by the lush food plots, 279 Acre high fence/24 Acre low fence, genetics programs, census studies, gender ratio balancing, and ample food/protein/water supply. The Whitetail alone are valued over $500k with many scoring +300". Details on management plan and census counts can be provided at request by contacting the listing agent. Additionally, you'll find exotics such as Axis, Blackbuck and Mouflon/Urial Hybrid Sheep. You can relax knowing that your game is watered and fed with live/self-filling municipal water troughs and Texas Wildlife Supply Feeders (four 4k lbs. & fifteen 650 lbs.) strategically placed across the ranch. All features mentioned plus a MLD extended season permit position this ranch to host paid hunts if you wish to significantly offset your monthly carrying costs. Big game is not the only wildlife to boast about here. Rio Grande Turkey are of plenty here as well. With two new +1.5 Acre ponds and large food plots, you're also sure to find plenty of dove, ducks and fish.
Other Notable Features Include:
Agricultural Tax Exemption. Majority of items convey, turn-key! Serviced by municipal water to all structures and wildlife troughs. Free high speed internet. Security/game camera network that's WIFI/Smartphone enabled, solar powered and infrared. Significant income generated from one wind turbine lease on property. All mineral rights owned convey.
This is an extremely unique ranch with far more to offer than meets the eye. Contact listing agent (details below) directly to request additional information or to schedule a tour. Note: Ranch Co-Listed with Dan Gandy of Touchdown Real Estate.
Directions
Take US-283 North 10 miles - Left turn off 283 on to FM-504 - 2.1 miles keep left on FM-504 - Keep on FM-504 for 7.3 miles - Take left turn on to McCants Ranch Road.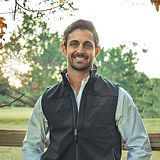 Reid Barry
Austin, TX
View profile
Send message to listing agent