14.7 Acres of Recreational Land & Home for Sale in Leavenworth, Washington
122 Morning Star Ln, Leavenworth, WA 98826
One-of-a-kind 14.72-acre estate offering privacy just above the Wenatchee River. This Trophy 3BR/3Bath log cabin has a gourmet kitchen, view decks, master BR w/Euro-Spa (whirlpool tub, sauna, 7 head shower). Gigabit fiber drives tech and security functions. Property has 8 outbuildings - 1200' attached garage, 3500' commercial-shop, bunkhouse/firepit, fenced garden & shed, mature orchard, chicken coop, underground grow room/shelter & 3 covered parking structures. The entire property is built to industrial standards w/luxury appointments. Metal roof, view decks, jacuzzi, generator BU, propane storage (500 gal), gas storage (500 gal). Furniture/patio packages included. Additional maintenance/materials packages optional to buyer. Offered at $2.95M.
Seller notes:
15-Acre-Forest-Estate: Sovereignty above the Wenatchee River.
Trophy luxury log cabin w/3BR/3Bath. Gourmet kitchen, custom lighting, marble counters & new stainless appliances. Three decks offer river & mountain views and event venue. Master/Guest wings are populated with Colorado Custom Log Bedrooms Designs which are included in the sale. In the core of the Master Wing lies a workout/massage room w/breakfast nook & entertainment center and Euro-Spa - whirlpool chroma-therapy tub, heated floor/towel racks, Finlandia Cedar Sauna (seats 7), Asian Shower (7 head). Gigabit fiber drives internet to tech and security functions throughout the property. Additional outbuildings include (1) 1200' Finished Garage@cabin w/wall heaters and high output fluorescent overhead lighting. (2) 3500' Commercial-Shop, metal EMT conduit/industrial wire mold outlets, business office, security HQ/operations, ADU (storage), water heater, laundry sink, high output commercial heater and eight ceiling fans. 50-amp welder/RV connection (3) Tool Storage- cedar shed 4/tool storage (4) Bunkhouse/Firepit - Sleeps five. BH has two in wall heaters. TV/Internet, Bluetooth Audio, recessed lighting (inside/outside) - large firepit - entertainment! (5) Fenced garden/shed - 450 sq ft of raised planting area protected with deer fence, automated irrigation, and garden shed - garden was designed to be expanded/converted into a commercial greenhouse (6) Orchard - 5 mature fruit trees with room for expansion (7) Chicken coop - offering consistent egg production (8) Side shop w/materials and equipment storage, access to underground grow room/bomb shelter (9) 3 covered parking structures. (10) Cords++++ of wood stored on property. The entire property is built to industrial standards with luxury appointments. Includes metal roof w/electric snow melt censors supported by controlled cables on roof/drains/downspouts. Both Cabin and Shop covered by generator BU. Propane storage @ 500 gal (buried), gas storage @ 500 gal (above ground). BR furniture/patio packages included. Optional maintenance equipment/materials packages optional to buyer.
Main Cabin
Kitchen/Dining Room/Family Room - From the moment you enter this log-home the open floor plan reveals superb design and outstanding rich artisan detail. The gourmet kitchen features all the amenities and flows wonderfully to a spacious dining room and adjacent family room
Breakfast Nook/Sunroom & Entertainment Room - As you move towards the Master Wing, you cruise through the Breakfast Nook and Entertainment Rooms. The design of the home guarantee's The entire home is wired for sound, offering distributed audio to each room with its own volume controls. Three full bathrooms, all with telephones. Spectacular outdoor entertaining options abound with three large desks, all with views of the Wenatchee River and Elephant Rock.
Master Wing
Great Room - As you walk up the gorgeous staircase to the upper level you enter a great room, complete with wet bar and entertainment area.
Master Bedroom As you continue through sculpted glass French doors you enter the sumptuous and expansive master suite. The hand-crafted log bedroom set is a one of a kind. There is a stone fireplace, walls of windows and a large walk-in closet. An outside view deck with indoor/outdoor 5-channel surround sound system allows a soothing ambiance to be created on demand.
Master Bath - relax and rejuvenate in your luxurious jetted tub. It features large jets and small bubble massage jets, a 1,500 watt in-line electric heater and Chroma-therapy colored lighting. Heated floors are in place to assure your feet are never cold. Built into the massive bathroom is a Cedar Swedish wet/dry sauna (sits 6) an amazing feature offering "steam on demand." The spacious European shower (7 heads) is accompanied by a heated towel bar. The master bath has its own dedicated entertainment system.
Walk in Closet -
Guest Wing
Guest Bedrooms - At the top of the stairs is the guest wing - 2 full bedrooms, and a full bath and laundry. Each bedroom has large closet and viewing deck. The bedrooms share a common full bath with telephone/audio connectivity. Both bedrooms share the southern exposure a day long sun exposure and views of the Wenatchee River below.
The Shop - The 3,800 sq. ft shop anchors the property. The house is served by a 400-amp electrical service and the shop outbuilding is served by a separate 200-amp service. Both buildings have commercial rated bolt-in power panels with adjacent emergency power panels with 100-amp automatic transfer switches supported by a large 7.5Kw emergency generator. The shop electrical system is wired with commercial metal EMT conduit and industrial wire mold outlets. The lighting is high output fluorescent. A large capacity ceiling heater and eight ceiling fans support airflow. The welder outlet is rated @ 50-amps. The shop is a structural built steel building that has an office space, cabinets, and a built-in laundry sink with its own water heater. The shop has its own dedicated pressurized septic system with its own separate 1000-gallon tank. The main driveway/parking area connects the shop and the home and is big enough for a semi to turn around.
Grow Room (underground)/Side Shop - a covered "cut out" space exist adjacent to the Shop with hidden access to the grow room.
Tech - Fiber run to home 100gig up/100 gig down - amazing internet coverage (Chelan County). Cat5/6 network throughout the property supported by a commercial punch down panel in the utility room under the house (network, telephony, power, water)
Parking - three separate metal carports located at the property entrance are engineered for local wind and snow loads, as required by Chelan County. The parking area next to the house can park 6-10 vehicles.
Bunkhouse - relax and unwind... The huge river rock fire pit sits in front of the 300 sq. ft. log building. New carpet, bunk beds, futon, TV, Cat6 connectivity and a Bluetooth Audio system with outdoor speakers are in place. The interior is finished in knotty pine. The exterior has a slate patio supporting the firepit (Firewise). This building is perfect as a guest suite, office, or party house.
Food Production - In 2018 I installed a large above ground fenced garden - (13) 8x4 planters (450 sq ft of planting space) with deer fence, automated irrigation and a large garden shed in place within the garden enclosure. The garden can easily be converted into a greenhouse (our plan). On the opposite side of the lawn there are seven mature fruit trees all planed with pest abatement fencing protecting the roots system. Finally, the large chicken coup (up to 20 chickens) is away from the house and our flock of 7 gives ~35 eggs a week.
Tool & Equipment Storage - There is a "refurbished" tools and equipment storage structure on the back of the property.
Commercial Opportunities - The commercial opportunities at Morning Star are endless. The shop is set up to do everything from welding to automotive repair. The property abounds with trees and commercial logging could be considered with proper permits.
Property sub-divide - I have been working with Erlandson Engineering and have the "re-plat" application ready to go to Chelan County. The application breaks the 14.7 acres into three parcels - 5.5 acres, 5.5 acres and 3.8 acres. I have done all the feasibility assessments (septic/well) and that opportunity awaits the buyer of the property if that is something they wish to pursue.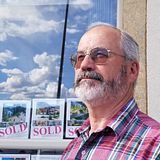 Tom Merry
Leavenworth, WA
View profile
Send message to listing agent